Black Dome Mountain Guide Service offers Whitetail Deer and Black Bear hunting on foot or on horse back. One day hunts or multi-day packages are available.

Sample Itinerary:

Arrive at Camp Black Dome at 6AM . We move into fixed positions, your choice of either different tree stands or blinds. At 9:30 AM breakfast is served inside the dining facility. Approximately 10:30 AM, if you are hunting on horseback, we mount up and up to the "high country", and then onto State Land to hunt game on Black Dome Mountain. At 1:30 PM we ride into the Hamlet of East Jewett for lunch at Harvey Edson's General Store. Harvey always has good food and a warm atmosphere. After lunch, we remount and head up onto Onteora Mountain or stay in the valley and hunt the grassy fields and woodlands on State Land near Colgate Lake, a favorite watering hole and natural feeding area of both black bear and deer. Close to sunset we return to base camp. If you're staying overnight, it's time to clean up and get ready for the evening meal inside the dining tent with a warm fire burning inside the wood stove. Dinner is served at 7 PM prepared by a local Chef. Whether it is an American beef steak, wild game hunted that week, or a local cuisine, it's always tasty and filling. Turn in is whenever but be up at 5:30 AM or earlier to be in position by 6:00 AM and begin our second day of big game hunting.





BLACK DOME MOUNTAIN GUIDE SERVICE
BIG GAME HUNTS: WHITETAIL DEER & BLACK BEAR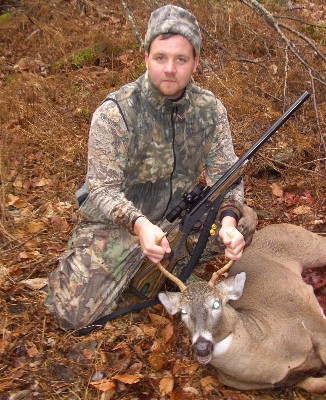 In order to hunt big game, small game, or wild turkey and other game birds, you must possess a New York State hunting license issued by the NYS Department of Environmental Conservation through your Town Clerk. Before you can get a NYS hunting license you must pass a Hunter Safety Course given by the Department of Conservation. Check with the DEC at 518-402-8843 or 866-933-2257 for dates and details. You should own your own firearms: shotgun for wild turkey and game birds (usually 12 gage) and rifle (at least 30 caliber) for big game and for small game (bobcat, fox, coyote) use a .22 caliber rifle. Happy Hunting!